I am excited about opening our new website just after the first Christmas holiday season in the 21st century. I hope the site will help you find fresh and accurate information about our products and our company.

Some of you may be surprised to see this "LATEST NEWS" section in the home page. We dared adopt this approach (which is rarely found in a usually-more-conservative shipbuilder's website) in the hope of letting you know every news and event around Kyokuyo Shipyard as quick as possible. Please come over here from time to time, as we will be regularly updating this page.

Let me say some words about our sales strategy and its implementation. I firmly believe we have the clear advantages over our competitors of :
being well equipped to conduct international transactions,
having outstanding design abilities, and
holding high building standard and working accuracy.
With these in mind, we are always targeting ships with something more hi-tech that other builders can not easily materialize (three 400TEU refrigerated container carriers we are currently building are a good example). I'm happy to report we are doing well, in spite of hard competition with Japanese shipbuilders and other far-eastern companies that are coming from behind.




If you or your customer have some plan to build merchant ships, please explore this site. Our company profile or building records is just one or two click(s) away from here. And in case you are interested in our products, do not fail to drop an e-mail. We will respond to you immediately! [02.01.20]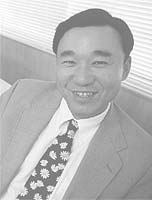 Katsuhiko Ochi,
Managing Director & General Manager of Sales Department