We are very happy to report you that we have received an order for a 7,000tdw cement carrier.

Since we were busy in building (mostly) series of cellularized ships and reefers in the 2 last decades, the newly-ordered ship will be the first cement carrier in quite a while, after we built in 1981 m.v. "GA YANG". For your curiosity, "GA YANG" is still alive and kicking despite her age : you may see her passing through Kanmon Channel if you are lucky.

Belonging to the newest generation, the new 7,000 tonner has a modern design and is fully armed with latest model of equipment such as stern and bow thrusters, securing safe and sure maneuvering even in a narrow waterway or in a strong current.

The order was placed by Messrs. Seiho Kaiun K.K., a Namikata based local company owning tankers and cement carriers. If you are in the shipping industry, we bet you have probably heard the name of Namikata - town of shipowners, just like Piraeus in Greece, or Bergen in Norway.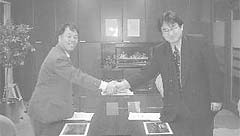 We did not have any contact with the Owner, Hasebe family, before a fateful encounter (!) in the last summer. Since then, we are always enjoying our pleasant relationship with the family, whose each member possesses a broad outlook over international affairs and a modern sense of business.



Kyokuyo Shipyard has an engineer who used to be working at a cement transport company as technical staff before joining us. He played key roles in designing and supervising when that company built ships as owner, and as such, the engineer has come to know every aspect of ship building process inside out. We have named him the manager of this specific project.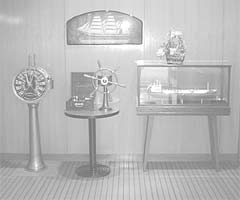 He is actually leading very well the team, using his know-how on one hand, and learning the latest trend from the owner on the other hand. As Mr. M. Hasebe, president of Seiho Kaiun K.K., suggested, we are "consolidating our forces, experiences and know-hows to build a high-spec but efficient vessel." We really hope our fruitful association will last forever.
Frankly, we know, with more than 20 years of break, it is crucial for us to make the very ship well built, in order to regain our presence in the cement carrier sector. But we are sure we can do it. Our determination is firm. [02.03.05]

Note : All the 3 photos are taken in the owner's office. Cool, isn't it?