On June 26, we completed the construction of a 834TEU type container carrier, S440, ordered by SITC Maritime (Group) Co., Ltd. of Qingdao, China.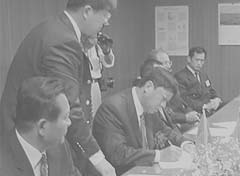 The newly born ship, named "SITC SHANGHAI", is our 3rd vessel built for the same owner. It was a 3-ships contract, so she is the last one. For your curiosity, her sisters are called "SITC QINGDAO" and "SITC DALIAN", respectively.
What made us very happy is the attendance to the ceremony of Mr. Yang Shaopeng, President of SITC Maritime (Group) Co., Ltd., together with Mr. Mi Yongfa, Chairman of the Board of Shandong Foreign Trade (Holdings) Corporation Ltd., and Mr. Lu Huagang, president of SITC Japan Co., Ltd.. Mr. Y. Kamioka and Mr. T. Yoshida also joined from broking company, Nissho Iwai Marine Corp., to celebrate the maiden voyage of SITC SHANGHAI.
As usual, just after exchange of the signed papers in our main office, we had ceremony of naming and delivery on board the new ship. We then moved to downtown of Shimonoseki, for celebration party, where we had an additional guest : Mr. Kiyoshi Ejima, Mayor of Shimonoseki city.




44 years old, hot and energetic, our mayor devotes his hard-working efforts to put vitality into Shimonoseki. As leader of the city that has been always playing important roles in Japan's foreign trades and diplomacy, he is also keen on international exchanges. Our mayor delivered a hearty speech in front of our guests from Qingdao - a sister city of Shimonoseki, since 1979.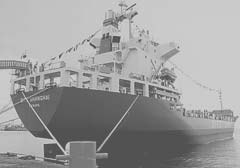 It is our happy surprise that Mr. Yang proudly declared, in his emotion-charged reply to Mr. Ejima, his intention to name the NEXT ship "SITC SHIMONOSEKI". Yes, NEXT ship ! How nice to have this kind of word in front of a lot of witnesses attending !!
Hearing good-bye horn of SITC SHANGHAI, we made a fresh determination to try even harder to build good ships for China - Japan trades, keeping good relation of mutual trust with our valuable customers. [2002/09/20]