On November 12, a clear autumn day, the naming and launching ceremony for our cement carrier S-443 (do you remember her?) took place at our shipyard.

Just a few minutes after our newest baby was named "Kurohime Maru" by the shipowner, Mr. F. Hasebe, the champagne cord was cut with a single stroke of axe by Mr. Hiruma, President of the cargo owner, Denki Kagaku Kogyo K.K.- to make her feel the seawater for the first time in her life. It is like a parade, really, with fireworks, confetti and cheering crowd.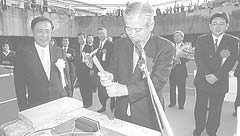 To witness her first moment floating on the sea, there were many other guests, including Mr. Ikeo, managing director, from Denki Kagaku Kogyo K.K., Mr. M. Hasebe, chairman, and Mr. Higaki, director of Seiho Kaiun K.K., and of course, Mrs. F. Hasebe.




Our celebration was carried over to dinner party at a traditional style hotel-restaurant, Shunpanro. For us, Shunpanro is more than a place to eat : it is the first restaurant that served globe fish plates ; also, Peace Treaty of Shimonoseki was negotiated and signed there, more than 110 years ago, between Japan and China.
The delivery of Kurohime Maru is expected at the end of January, 2003. We are putting forth our last spurt so that she will be able to impress the people with her quality.['03/01/20]