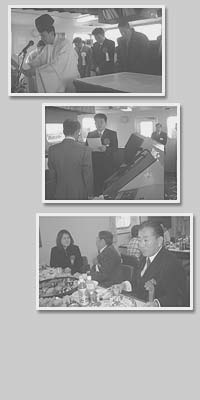 2 days later, it was the turn of m.v. "KUROHIME MARU", cement carrier of 7,000tdw. With attendance of guests from the owner, Mr. and Mrs. F. Hasebe, President, and Mr. and Mrs. M. Hasebe, Chairman, and Mr. Higaki and his daughter, as well as Mr. A. Teo from Petroship joining us as friend, the religious ceremony was held at the vessel's bridge, in Shinto rites.
As a modern cement carrier built in the 21st century, this Japanese-flag ship is equipped with bow and stern thrusters that ensure safe and sure maneuvering, especially in a narrow waterway. Also, her cargo discharging system is a special "lift tank" pneumatic type, developed exclusively by Denka Engineering Co., Ltd..
After the ceremony, the vessel sailed out of our yard with all the guests remaining onboard - for owner's trial, and for celebration party as well ! We spent some happy time, once again, in the mess room of the new building ship just cruising, with a sense of accomplishment.
So, we had a busy, but certainly productive month. Good start, isn't it ? ['03/03/01]