A brand new contract was signed between Kyokuyo and Kasuga Kaiun K.K..

The signing ceremony (yes, shipyards love ceremonies) was held at the owner's office on a lucky day - according to Japanese traditional calendar system - in February, 2003. Kasuga Kaiun, or Akase family, is based in an island called Hakatajima, well-known "shipowners' island", that quite a lot of owners call home. Our CEO Mr Okamoto looked happy to be able to visit, finally, the owner's famous high-tech office built 4 years ago.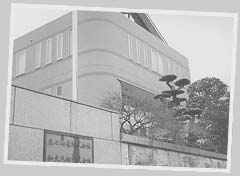 Obviously, our relationship with Kasuga Kaiun has a history of more than 4 years. In fact, we repaired one of their cargo ships in 1985, for the first time ; and the first newbuilding order, for an innovative 200,000cft type low temperature reefer carrier, was received in 1994. Ever since 18 years, the family is our valued customer, and we have built 3 reefers of the same type for the owner.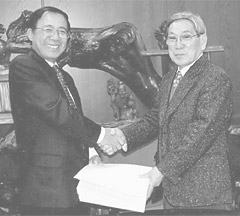 This ship, I mean the 4th one, is again an ultra low temperature type reefer of 200,000cft, mainly for world-wide transportation of tunas and other fishes. We are happy to confirm once more that our design is appreciated highly by the industries, for its freezing performance and reliability, loading and unloading friendliness and its overall efficiency. The leading particulars have not changed dramatically, but a lot of improvements have been applied since 10 years. Indeed.

Her keel-laying is scheduled at the beginning of April this year.
['03/03/29]