We have got a new girl and boys aboard. As on the 1st April, 6 fresh persons joined Kyokuyo. (For those who don't know Japanese tradition, Japanese fiscal year starts on April 1 and it is common to employ new graduates on every April 1).

This year too, we could manage to secure talented young recruits, including one who studied in USA and is fluent in English, two sport men who played in the quarterfinal game in the region-wide baseball tournament, one good Chinese speaker who served as ad hoc interpreter when our staff took our guest from China to a Korean restaurant (he was doing a part-time job there), one big-mouth who introduced himself as "playboy biker" (wow!) in the first interview, and the other is, by contrast, quiet, reserved and strong-willed.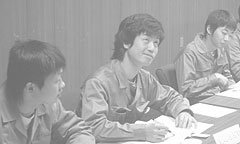 A severe ordeal was waiting for them, though. They have to attend 2 days special training course (aka 2 day struggle against sleepiness) before starting on-the-job training. The course started at 8 o'clock in the morning and consisted of 10 units of 50 minutes lectures. Let us introduce its curriculum :
April 2 :
company rules
cost mind
quality control and ISO9001
basic of ship design
basic of ship manufacturing
health and safety
business manners
April 3 :
salary and social insurance
production facilities
hints for newcomers

Yeah, certainly, it should be sleepy for new graduates !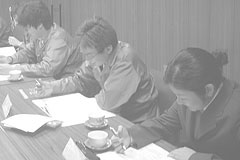 They could not sleep, however, because the lecturers were our board meeting members and general managers ! We meant to carry our spirits and our own way of thinking over generations by entrusting company's key persons with the first training for newbies.
Of course, our boys and a girl passed the challenge and were sent to their respective position where their first career actually started. Please welcome our youngest colleagues, if you see them in the near future ! [03/05/31]