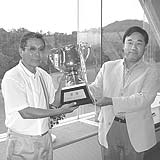 2005 and 2004 winners

The battle was started at 7:32, in 32 groups of 4, or 3. In that calm weather that actually allowed no excuse, all the golfers showed off their skill quite frankly, some in fantastic plays and others in... funny plays (to gallery and other players, of course).

Among the players who really shone is Mr. H. Miyauchi (Tokai Electrics), the 2005 winner. With a little help from double peoria scoring system, Mr. Miyauchi built a big margin over competitors. The best gross prize was won by Mr. K. Aoi (Kyokuto Kousan) who shot 81. No wonder his first name, Katsutoshi, means "victory".