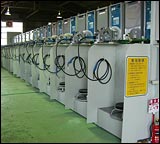 ORSC Center

Starting this year, we sent 3 freshmen (-to-be-technicians) to Oita Regional Shipbuilding Craftsmanship Center, newly founded in March 2006 at Saiki city in our neighbor prefecture, Oita [wikipedia

]. They hastened to leave Shimonoseki after (stressful) lunch, to attend professional training in Oita for 3 months.

The center, aimed at transmitting professional know-hows through the generations by offering craftsmanship training for young technicians, is jointly operated by 9 ship builders located in Oita with subsidies from local and national governments. It is the 3rd of its kind, after Innoshima (Hiroshima) and Imabari (Ehime).