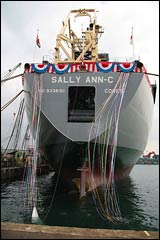 Kyokuyo's last big event in 2006 was joint ceremony for naming and delivery of S467 and naming of S468 held on December 5. The 13,400tdw multi-purpose cargo boats are sister No.3 and No.4 ordered by Carisbrooke Shipping Holdings Limited.

There were 34 guests from United Kingdom, including Mr. Ian Walker and Mr. Phil Jones, Chartering Directors, and family, who made the celebration even more joyous and heartwarming than the previous ones.

The ceremony started at the outfitting quay with the naming of S468, which was given the same name as her namer, when Ms. Sally Ann Bell, the partner of Mr. Phil Jones, declared the ship's name as "SALLY ANN-C".