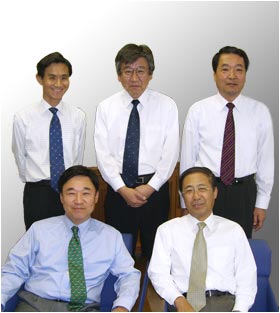 Kyokuyo's Board of Directors. From top to bottom, left to right : T. Nagatomi (Director), T. Mitsui (Managing Director), N. Fukushima (Director), K. Ochi (Executive Vice President) and T. Okamoto (President).

A happy new year to all !

In the past year, Shinzo Abe became Japan's prime minister. He is a Shimonoseki native, and the eighth prime minister, since Meiji restoration in 1867, who has his home town in our Yamaguchi Prefecture. The news obviously put most local people in a somewhat happy mood.

2006 was also a good year for Kyokuyo Shipyard Corporation. Sailing before the wind of strong shipping economy, it could secure several new orders, including one for pure car carriers for the first time in 2 decades.

The company delivered 3 units of 13,400tdw multi-purpose general cargo boats and 2 container carriers of 907TEU in 2006. Fully utilizing its new facilities, Kyokuyo continues to build a variety of ships - container carriers, reefers, MPC's, and 16,000m2 type PCC - with sufficient order backlog which will keep the shipyard busy until mid 2010 as of writing.