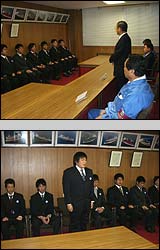 As our loyal readers know well, April is the month for a Japanese company to welcome newcomers fresh from college and school. This April is however an unusual April for Kyokuyo Shipyard (and general affair staff in particular), as it has received as many as 10 new recruits - number more than double compared to average year level.

The new employees are well balanced in terms of education background, with 4 from high-school, 2 from technical college, 3 from university and 1 from grad school. Since they are not all Shimonoseki natives, it is interesting to hear them talk each other with one's own local accent !

On April 2, the freshmen attended at their first ever ceremony in the company - the initiation ceremony, which does not include champagne breaking, but delivery of appointment letters and president's speech. It was followed by simple lunch party, where new employees enjoyed (allegedly) frank conversation with corporate board members.