A Message from New President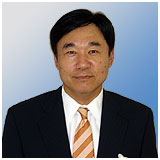 Hello everybody! Taking this opportunity, I would like to say a few words on my belief and our management objectives.
The management of Kyokuyo Shipyard Corporation has always wanted the company to be unique and inimitable by any other shipbuilders of similar size. Since Mr. Kunji Irahara, ex-chairman, set up the policy of substantially strengthening Kyokuyo's technical and commercial abilities to directly transact with shipowners across the globe, we have been working hard and our efforts look bearing fruits. Today, unlike other Japanese shipyards, about 80% of the ships we build are the result of our direct contracts with foreign-based shipping companies. I would first like to thank our valuable customers for their support, and brokers and trading houses for their cooperation.
In my new position as president, I have renewed my determination to best serve our customers through quality service and products.
Thanks to the shipping market boom, which is said to be the biggest and most prolonged since World War II, our company has an order backlog robust enough to keep us busy for 4 years. It is even the strongest backlog I have ever seen in my career in the industry. While I feel somewhat puzzled, to be honest, many experts forecast the current excited market state to continue.
Under these sort of euphoric conditions, I do ask myself, and request every director and staff to ask oneself, some most basic and important questions once again : "Is Kyokuyo a ship building company that can survive through any unexpected storm? Can Kyokuyo continue to give satisfaction to new employees?" Additionally, I believe it is the time for us to consider intensifying our contribution to the local society.
In order for us to further improve our value to the customers, I would focus on enhancing our competitive edge in 3 aspects, i.e. "design", "quality" and "price".
First of all, I intend to heighten our already-extremely-highly-rated design abilities by investing in new software and in aggressively recruiting new talents. I am proud of Kyokuyo's design capabilities which enable us to develop and build totally different types of vessel simultaneously, or to challenge highly specialized projects which require advanced engineering - and thus other builders can not take up easily. As the leader of a technology-oriented company, I believe it is most critical to maintain and further strengthen our outstanding power in this field.
The product quality is equally important, because not only does it save our clients' maintenance expenses, it can also help lower our building and after-sales service costs in the end. We have obtained high marks from our customers for delivering quality ships. It is certain that the company has attained and kept the current level of standards, both in hardware (welding, painting..) and in software (communication skills, etc.), through our direct experiences with shipowners from various corners of the world. Always looking ahead and taking future reinforcement of regulations into account, I will not hesitate to consider timely investment in plant and equipment, in order to hold our international level of product quality.
Finally, facing an abrupt increase in building costs, mostly due to the inflation of commodities, like iron ore, oils, non-ferrous metals, to name a few, we must take a next step of squeezing the costs, exercising our ability and ingenuity to the maximum. We will build very lean "muscle" by thorough elimination of wastefulness at every phase of production, from drawing the first line, purchasing materials to quality control. I plan to introduce a new suggestion system to encourage participation of all our employees to tackle the issue. I firmly believe our concerted efforts will finally result in improving customer satisfaction as well.
Sharing the same and steady vision with the other board members, I will take every possible measure to create a good environment where each person onboard Kyokuyo Shipyard Corporation can work together toward the said objectives happily, but seriously, and energetically.
June 27, 2006
Katsuhiko Ochi
President