Dear customers and readers,

As you may have seen in the previous news, I have been appointed senior managing director of Kyokuyo Shipyard Corporation. In my new role, I assist Mr. Ochi, our new president, and lead company's technical divisions, including design, construction and quality assurance.

With continuous and solid cooperation from our customers, suppliers, trading houses and other service providers, Kyokuyo Shipyard Corporation has successfully solidified its position in the industry as unique, niche-oriented, creative and reliable merchant ship builder. I believe however that we can not satisfy all the ever-changing technical demands from clients in the future, especially in our niche, just by walking on our beaten path.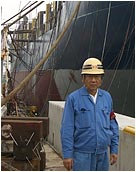 In order for Kyokuyo to remain truly creative, every member of the company should try to create new value by thinking and acting for oneself. It is also important that through everyday's individual effort they feel and share with colleagues a sense of crisis that "we can't catch up the changes without redefining ourselves."
On the other hand, opportunities to think out are less likely to be given in today's ship building process where "series construction", computerization, automatization and outsourcing have all become standard. Moreover, it strongly worries me that the current shipping market boom may blunt our sensitivity to such sense of crisis.
I recognize my prime mission is to cultivate human resources capable of keeping up with the changes and to create an environment encouraging them to work with vigor and enthusiasm. With this, I think I can contribute to "maintaining and further strengthening our outstanding power" as "a technology-oriented company", as our new president said in the news 071.
I will do my best to make the company keep producing "quality ships that are immediately recognizable as built by Kyokuyo". Your continuous support will be appreciated!
July 31, 2007
Yours sincerely,
Tetsuo Mitsui
Senior Managing Director