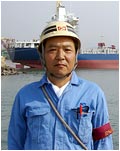 Hello everybody, I am Noriyuki Fukushima. I take charge of Kyokuyo Shipyard Corporation's production division.

My career started 38 years ago as officer onboard a oceangoing ship. I became then an engineer at a middle class shipbuilder, and labored really hard. In 1987, I had opportunity to take part in projects for building the world's highest quality and most advanced LNG carriers, and spent 10 years there, directly experiencing the state-of-the-art technology in the industry. 2007 is my tenth year in Kyokuyo.

In recent years, our company has made a considerable progress in the area of production technology. 2 years ago, we replaced NC cutters and built an all-weather blasting factory, aiming at shortening the periods for the production of building blocks, pipes and onboard woodwork items in cooperation with our subcontractors. Steady supply to drydocks of the blocks assured by the new factory has actually contributed to the expansion of our annual production capacity from 4 to 6 units.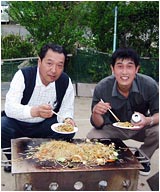 Overall quality of service has also been improved in both building and repairing sectors, including docking/undocking, thanks to joint hardworking efforts by the staff of Kyokuyo and its subcontractors.
Building of PCTC's in 2009 and full implementation of IMO's PSPC (Performance Standard for Protective Coatings) in 2011 - our challenge continues to be to reliably manufacture ships of higher specifications, and we anticipate to ceaselessly prove our worth.
As leader of production division, my target is simple : I want my unit to be always with good teamwork among the members to make pathbreaking efforts ; while seeking reliability and efficiency as well, I put priority on safety and quality so that every worker can do his/her job safely and proudly. I believe our team can contribute to the company's profitability only by this way.
Noriyuki Fukushima
Director & General Manager, Production Division
[photos - top : Mr. Fukushima giving highschool students a tour of the factory - middle : Mr. Fukushima at work - left : He knows how to improve the quality of fried noodle, too. ]