How do you do ? I am Mr. Nagatomi, from General Affairs Division. In the shareholders' meeting of June this year, I was approved as director of the company.

Before all, I would like to thank all of you, dear readers, for visiting our web site. As the division responsible for the company's PR activities over internet, we will keep trying our best to provide both valuable and interesting information to you. We are happy if you come back to check our news very often !

Our new president, Mr. Ochi, has redefined the management's objectives through his "policy speeches" published here and to other media. Acknowledging the ultimate and most basic challenge for a company is to secure its continuity, our leader stated that the management would try to further enhance Kyokuyo's corporate brand by focusing on 3 aspects, namely design, quality and price ; to seek the happiness of the employees and contribution to local community ; and to rebuild a company that all the staff, including newly joined, can feel proud of and satisfied about.

On starting to serve my second term as director in charge of general affairs, I would like first to emphasize the importance of achieving even tighter control to secure safe operation. Constant optimization of management resource is also critical to make sure the board can make a quick decision at any time. Frankly speaking, I am not satisfied with my first term results. I have refreshed my determination to make solid contribution for Kyokuyo management to attain its renewed objectives.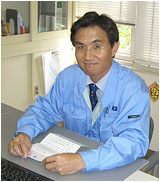 Finally, let me introduce our division. The General Affairs Division has 8 busy staffs in 3 departments, namely General Affairs Dept., Health & Safety Dept., and Accounting Dept. I am personally satisfied with and proud of my staff, their professional abilities and very original characters. Most of them are big eaters and has their own unique talents in the field totally irrelevant to our daily business. I feel sorry that none of our departments has been featured in this website, and am privately looking very forward to viewing a news titled "introducing General Affairs Department" very shortly !
Takashi Nagatomi
Director & General Manager, General Affairs Division