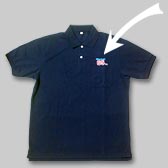 This year too, Kyokuyo hosted a golf tournament now widely known as "Kyokuyo Open" on October 10, its foundation day. As many as 145 guest and host players (in 38 groups!) gathered at Shimonoseki to celebrate the company's 65th anniversary. The sky was clear.

For the event, we had ordered navy colored polo shirts with "65th" and Kyokuyo's logo printed on the chest and handed them over to each player as a gift before starting games. The result was terrific, as all you saw on the course was golfers in navy-colored uniform ! It was really funny, spectacular and confusing to watch many equally clothed players everywhere, on the fairways and greens, in the bunkers, by out-of-bounds barriers, and on the edge of ponds ! We feel sorry for caddies about that.

You would however observe lots of human events and individualities if you looked further. Some made a triumphant return to club house, some seemed exhausted, some other had become irritated with themselves, and also some were indifferent about their score from the beginning. You could actually see as many personalities as the number of players.

At 4 o'clock started the awarding ceremony. MC-Yamada, who is general manager of material purchasing division on working days, made no mistake to warm up the event. At the climax, he announced that the winner of the 47th Kyokuyo Open was Mr. I. Sugishima of Daihatsu Nishinihon ! Mr. Yamahoka of Shinkai Industries, "best gross" awarded player 2006, also played another great game too, as he won the same prize again.

To close the ceremony, Mr. Ochi, Kyokuyo's new leader, gave his first speech on Kyokuyo Open as president. It was actually a humorous one, and the 47th Kyokuyo Open ended in laughter. Next year, the game will be held at Shimonoseki Golf Club. Finally, we would like to thank people at Shoei Sangyo Co., Ltd. who assist us behind the scene of every Kyokuyo Open. [2007/11/13]

Click at thumbnails on right to see a larger images.