"Seijin no hi" (

Day of Adults, literally) is the Japanese coming-of-age day, held on the second Monday in January. To celebrate its employees who reaches the age of 20, Kyokuyo Shipyard presents them a gift on that day every year.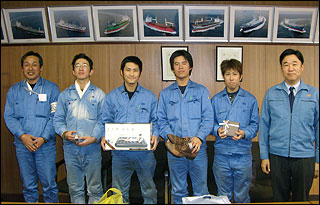 We had 4 eligibles in 2008, including 3 young technicians who, in 2006, took the professional training at Oita Regional Shipbuilding Craftsmanship Center for 3 months as we reported previously [ see news056

]. The other is also scheduled to do likewise this year to enhance the skills he has already acquired.
As Seijin no hi is a national holiday, the presentation ceremony took place on January 10 this year. The company president Mr. Ochi handed the present to each of 4 young adults, with hearty words of celebration and encouragement.
We wish them a bright future! [2008/01/18]