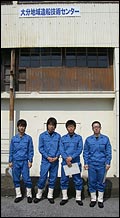 Like everywhere in Japan, the new fiscal-academic-corporate year kicked in on the bright and clear day of April 1!

At Kyokuyo, the new fiscal year opened with an unusual "all-hands" morning assembly. It was unusual because, in addition to Kyokuyo's employees and directors, every subcontractor staff is also invited to participate in it by Mr. Ochi, the company's president, who wanted to directly transmit his message to everyone working at Kyokuyo. In the speech, our leader warned the audience of tougher general economic situations ahead and stressed that all of members must work harder together, with a sense of crisis, in order for the company to go through them.

The day was also day of move for about 20 employees. Most of them are younger staffs promoted at the start of the year. With these personnel reassignments that could be called systematic delegation of power, the management, with an eye to Kyokuyo's future, is trying to motivate younger generations and to revitalize the corporate organizations.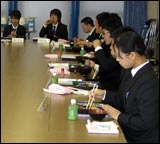 And fresh-persons. This year, we have welcomed 8 newcomers, including 1 out of grad school, 3 from university and 4 from high school. After being encouraged by Mr. Ochi, with his 2nd speech of the day, stressing the importance of acting on one's own initiative and at own risk, the new employees received appointment letter. 4 of them will get 3 months OJT while the remaining 4 are scheduled to spend 3 months at Oita Regional Shipbuilding Craftsmanship Center.
Like this, we have started over again. We are changing, really. [2008/04/08]