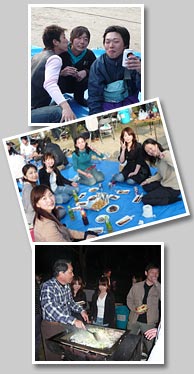 This year too, we had the flower-watching "hanami" party (see news069

) under organization of young employees. And again, it turned out quite a successful event, thanks to good luck as well as efforts and teamwork shown by the organizers consisting of fresh guys who joined Kyokuyo merely 13 months ago.

The timing for "hanami" is indeed very difficult to predict as cherry flowers fall at once and the best period is short. This year, with the arrival of warm weather, the blossoms had already reached full bloom by the first weekend of April. Since the party was scheduled on the second Saturday of the month, 12th, rookies of 2007 had to have an anxious week. What's worse, cold front then passed twice bringing hard rains and big winds each time.

When the day came, we saw a lot of overflown flowers everywhere in the city. But in the garden of Sumiyoshi Shrine, the party site, cherry petals were still hanging on like a miracle ! Under the clear sky gathered 60 people, including special guests, a Hong Kong based owner's 2 superintendents who came from Taiwan and southern China. They looked happy to be invited to Japanese flower-watching party for the first time while it was still a little too chilly for them. Mr. Fukushima, company's director, also internally known as "fried noodle master", cooked his famous fried noodle so devotedly and so lengthily that he suffered backache the next day.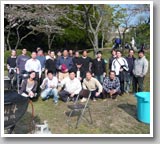 This year again, I would like to say thank you to the organizing team for good job... ah, I was about to forget to transmit a message from Mr. Ochi, president, to the organizer for 2009 hanami :
"I enjoyed the party, but for an event of a company which is known for its cultural spirits as well as having excellent entertainers, I definitely missed one thing which was music ! I hope I will be able to see guitars and horn section in the next party."
Serious? well, it is explicitly stated that the editor (me) will not assume any responsibility for what will happen next year ! [2008/04/25]