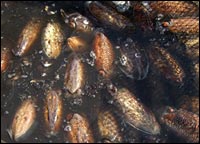 photo 5 - 6

Under clear sky and on calm water, I could spend a comfortable and enjoyable time on the boat. With skillful maneuvering of the fishing rope and Harukaze Maru No.3, inhabited traps were pulled up one after another. One, two, three... one hundred ... two hundreds ... the catch reached no fewer than 300 cuttlefishes finally ! As every mollusc emitted a jet of ink when it was drawn out of the sea, I could even enjoy taking black ink showers quite a number of times. To my surprise, there was also an octopus in a basket. it entered the trap to charge previous visitor and could not get out - if you believe Mr. and Mrs. Yamaguchi again.

After 3 hours of superb experience on Spring Breeze, I left the boat with a plenty of fresh cuttlefishes that the fisherpeson couple had presented to me. I would like to thank 300 times Mr. and Mrs. Yamaguchi and the other members of Chofu Branch of Yamaguchi Fishermen's union. The union hosts morning market at Shimonoseki every Sunday from 6 o'clock in the morning. You will find a wide variety of fresh fishes, including cuttlefishes of course, for bargain prices. There is also a restaurant, where you can taste fresh seafood caught earlier on the same day. Why won't you try next time you come over to our place ?

Okay, it's time now. See you next time ! [2008/05/13]

Want to know more about Shimonoseki and its vicinity ? Read "Shimonoseki Present & Past" back numbers !
III. Toyoura Area (not yet translated)
[Photo & Text by T. Miyoshi except B&W cuttlefish photo © 2006, David Iliff, licensed under Creative Commons Attribution 2.5.