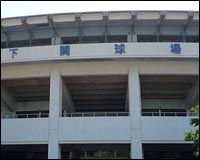 To old residents, name of "Shimonoseki Stadium" sounds specially nostalgic. Long time ago, when whaling business was permitted and active, Shimonoseki had thrived on fishery. It's in 1950, that a professional baseball club, named "Taiyo Whales", was born here, through patronage of Taiyo Fisheries Co., Ltd. (Maruha-Nichiro, as we know it today), the Japan's leading company in the industry based on the city then.

The original Shimonoseki Stadium, located at the city center, was the source of entertainment for many citizens at that time. The Whales used it as home field till 1952 when they moved to Osaka. After several decades, the team is now called "Baystars" and based at Yokohama. Thankfully, the club seems to retain respect for their place of birth, as it uses Shimonoseki Stadium to hold several home games every year. When Baystars won the pennant in 1998, for the second time in its history, they even made a victory motorcade through the city !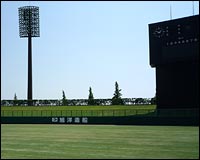 The actual stadium, operated by the city government, was built in 1988 near Shin-Shimonoseki station. Besides the professional games, it hosts a lots of amateur ones, including preliminary games of the popular high school baseball tournament. While it may no longer be THE source of entertainment any more, Shimonoseki Stadium is now a special place for many local youngsters dreaming to play baseball in the big leagues.
When we learnt space on the rubber fence in the baseball field would become open for advertisement as from April this year, we lost no time deciding to run an ad on it. As an "old resident" which has been, is and will be based on this city, Kyokuyo is very happy to support the dreams of, and share the same enthusiasm with citizens. A hooray from fence to all those who will play in Shimonoseki Stadium ! [2008/05/27]


home > news > 083 : Kyokuyo Made a Debut in Shimonoseki Baseball Stadium