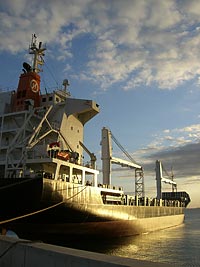 Our last big event of 2008 was the naming and delivery ceremonies held on December 11 for S-481, 845TEU geared container carrier.
On the previous day, we had a rare phenomenon for our place. From sunrise to sunset, Shimonoseki was covered in so thick fog that even natives had never experienced. The unusual weather caused serious transport havoc with Kanmon Channel closed and no aircraft being able to land at our nearest airports like Kita-Kyushu or Yamaguchi-Ube. Our guests had to deviate from normal path to join dinner party on that day. We then worried a little about weather on the coming day.
When we woke up next morning, the fog was however all gone and the sun was shining ! It was even a surprisingly fine and warm day without any wind. What was even more surprising, though, was a thunderstorm that hit the city immediately after we finished planned ceremonies and banquet. In other words, we could benefit from the magical period of time, which should be a "blessing from above."
We received 26 guests for the ceremonies, including Mr. and Mrs. Mori, of Imecs Co., Ltd.. Mr. Mori, president of the company, named the vessel "HANJIN SEMARANG" and Mrs. Mori was in charge of cord cutting. With everything being done beautifully under sunshine, the newly-born container ship set out for her maiden voyage. After the ceremonies and short visit to Akama Shrine (see Shimonoseki Present & Past No.1), the guests moved to a banquet hall from where all the attendees could enjoy the sight from the windows of the shining vessel passing through Kanmon Channel.

We will be closed from December 30, 2008 to January 4, 2009 for the new year. We wish all of you a happy new year !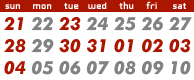 Once again, we would like to thank Mr. and Mrs. Mori and other people at Imecs Co., Ltd. for granting us an opportunity to serve them for the first time. We wish a long and successful life for "HANJIN SEMARANG." [2008/12/15]