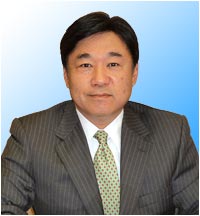 Wishing you all a happy new year, I would like to say some words about 2009's Kyokuyo Shipyard Corporation.
The big shipping boom that started in 2004 reached its peak in the first half of 2008, driven mainly by strong dry bulk sector. It came to a sudden end, however, when the credit crunch and the sub-prime crisis triggered the global recession. Now all the market sectors, including bulker, container and PCC, are tossed by wild waves. There may be many reasons which can be thought up after-the-fact, but let's put it simple : the shipping market, volatile by nature, is full of ups-and-downs. We are just facing a big "down" after a big "up". Aren't we ?
Last year (Jan. to Dec. 2008), we contracted 7 ships - 2 x container carriers, 1 x LPG carrier and 4 x ro/ro cargoes - to secure orders until June, 2012 on delivery basis without any unfixed position. Our order backlog now consists of 18 units, or a work volume for 3 years and a half. We are deeply grateful to our customers for this largest backlog in Kyokuyo's 66 years history.
Obviously, this can not make us optimistic. To be frank, after we received the said orders in the first half of the last year, virtually all the new enquiries were suspended or postponed in the second half. Some of Chinese and Korean shipbuilders without solid operating foundations are now reported to be bankrupted or winding up. With the current situations continuing, the shipping and shipbuilding industries in Japan will surely receive further impacts - good or bad - from the crisis. We should pay the closest attention to what will come up on the horizon.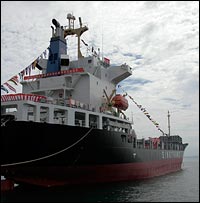 In 2009, we will complete 1 x container carrier, 2 x multi-purpose cargoes and 2 x pure car carriers. In particular, we are making careful preparation to build good PCC's that mark our return to the sector after a long time period.
In spite of the unstable tidal current, our basic strategy remains unchanged for this year. Kyokuyo Shipyard keeps differentiating ourselves by focusing on "technically challenging and high-value added" vessels, firmly realizing that this is the only way for us to ride out the recession. We also unwaveringly maintain our current policy of confining investment to cost-saving technology and equipment-life prolongation. We do not seek production increase, but cashflow management and healthy financial status.
Since I became president 2 years ago, I have put some ideas into execution, including introduction of new post of corporate officer and system for improvement suggestion, and personal interview with all the employees, to name a few. After the economic trouble hit the world, Kyokuyo launched company slogan "For our future. Re-challenge 2010" together with new action plan, aiming at further enhancing our abilities in terms of design, quality, competitiveness, financial strength and team spirit by 2010.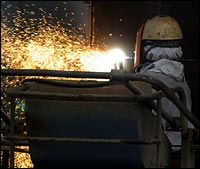 In other words, 2009 is another year of groundwork for survival to Kyokuyo. We will implement the following actions :
New products : Kyokuyo will continue our work to introduce new more energy-saving and eco-friendly standard designs of container carrier and PCC, complying with new regulations. We are also planning to develop new real multi-purpose cargo vessels, which lead to maintaining of our rich backlog, when the time comes.
Better production control : we will strive after better production control and competitiveness through bold procurement plan, correct and aggressive relocation of personnel, improved suggestion system and by effectively motivating employees. In addition to all the above, the reform of our block assembly factory will be finished by coming March as result of company-wide intensive discussions. It will contribute considerably to effective and trouble-free PCC building.

We will be closed from December 30, 2008 to January 4, 2009 for the new year. We wish all of you a happy new year !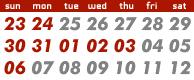 At last, I would like to repeat the last paragraph of my message of a year ago : "each of us are committed to do his/her best, in a honest way, with the pride of a ship manufacturer, keeping safety-first in mind, for the sake of himself/herself, company, local community, and our valuable customers and other people involved who have given us opportunities to build our ships in these economical situations."

We look forward to a continuing relationship with you. Let's ride out tough times together !

Katsuhiko Ochi
President
Kyokuyo Shipyard Corporation
[2009/01/01]