As explained in the news079

, Kyokuyo Shipyard presents a gift every year to the employees who have just reached 20 years of age, on the occasion of "Seijin-no-Hi", Japanese coming-of-age day. Being celebrated on the second Monday of January, this national holiday fell on January 12 this year. We held our ceremony on 9th, the working day immediately before Seijin-no-Hi.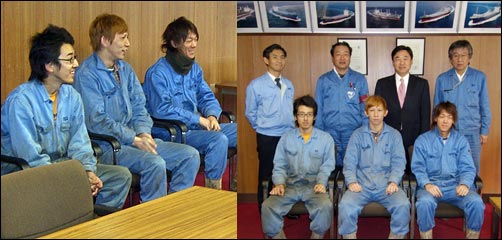 This year there were 3 eligibles - they belong to the last generation born in Showa Era, which ended in 1989 when Emperor Hirohito passed away. All the 3 are technicians who took the professional training at Oita Regional Shipbuilding Craftsmanship Center for 3 months just after they joined Kyokuyo. Today they are all working hard as dock sailor, pipe laying specialist and lathe technician, respectively.
After a short ceremony where the company president Mr. Ochi handed out the present to each of the 3 new adults, with cordial words of celebration and encouragement, they returned to their places of work cheerfully.
We wish them all the best in the future ![2009/01/15]