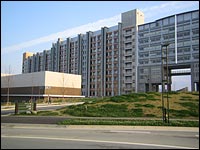 Tetsuo Mitsui, Kyokuyo's senior managing director, delivered a special lecture at Ito New Campus of Kyushu University

on January 22, 2009. Kyushu University is one of the leading national universities in Japan, founded in 1903 at Fukuoka. Mitsui's lecture, titled "New Form of Shipbuilding - Creation of Technologies and Ship Design" was realized by cooperation of Professor Dr. Akiji Shinkai

of Department of Marine Systems Engineering

at Kyushu University, or "Kyudai", and attended by 35 of his students, including doctoral students, most of whom will be engineers in the shipbuilding industry in future.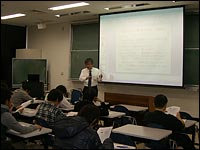 The lecture was comprised of 2 parts : "overview of naval architecture" and "technology development." In the first part, Mitsui reconfirmed the positioning of naval architecture as a study and gave a brief introduction to ship design practice through the example of key plans development. In the last part, he presented some of Kyokuyo's ongoing design projects as well as the international activities of our in-house engineers.
In closing, Mitsui stressed ever-changing nature of ship designs and importance of designer's mental attitude. "In order to meet ever-changing needs," he advised to young students, "it is essential for a ship designer involved in technology development to keep an eye on world's trend and to have an inquisitive mind, so that you can make proactive proposals, which can be creative solution to the problems the shipping industry will face."
His lecture was well received by the students, but I'm not quite sure if his effort of using photos of young idols in his slides to attract young boys' interest had contributed to it ![2009/02/18]

home > news > 095 : Special Lecture at Kyudai by Tetsuo Mitsui