On March 24, naming and delivery ceremonies for a 13,400tdw type multi-purpose cargo ship took place. The vessel, code-named S492, was ordered by Diomedes World S.A. to be chartered out to Carisbrooke Shipping

of England. The ceremonies were attended by 15 guests including Carisbrooke Managing Director Mr. Ian Walker and his wife Janet, and ex-Managing Director Mr. Willem Wester and his wife Heleen, among others.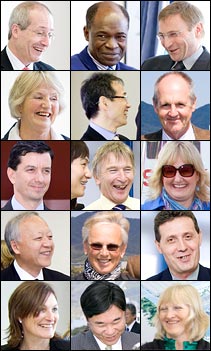 The event commenced on 23th with a dinner hosted by Carisbrooke Shipping. We all enjoyed cuisine française à la Shimonoseki at Hiyorian

, local restaurant, with nocturnal view of cherry blossoms that just started to bloom.
The main ceremonies were carried out the next morning onboard the new ship, in warm and crisp weather. She was given the name "Greta C" after her godmother, Mrs. Greta Croucher, who is the wife of company's founder.
With all the ritual procedures being done, we had then informal lunch party at the first floor (in the British way of counting) of the Kyokuyo's office building annex, a.k.a. superintendent building. We enjoyed very much the relaxed atmosphere, with a lots of laughter and pleasant talk in both Queen's and ... broken English. From windows we could see the sea shining bright, as if to celebrate the birth of "Greta C".
And after the light lunch came a big dinner, of course! We invited the English guests to try the famous "Kobe Beef" steak. As juicy meat just tasted "fantastic!" and it was "melting in the mouth!" of our guests, we repeated orders. Then, the news came through that Japan won again World Baseball Classic (yay!), and we repeated orders. And we repeated orders again and again, while we were not quite sure what we were doing. Later, we were told by the restaurant owner that we consumed all of the beef and wine they had had in stock !

We all wish "Greta C" a good future and calm seas on voyage ! [2009/03/31]