On April 10, a launching ceremony was carried out to celebrate S485, the first of a series of 16,000m2 PCTCs (Pure Car/Truck Carriers) Kyokuyo is building for a Europe-based customer.
As she is our first car carrier since no less than 24 years, there remained only several staffs who had previously experienced the PCC manufacturing process when we started the project. It was certainly a big challenge to our designers and engineers, and they made unflinching efforts under direction of "experienced" staffs. Visiting car carriers under construction, studying and accumulating design and building know-how, carrying out block-mounting simulations frequently - preparation by our engineering team was intensive and elaborate.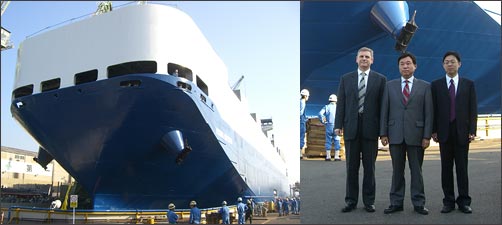 The launching day was set to a day of spray tide. It was completely windless despite previous concerns. Under perfect conditions, we started to put water into dry-dock early in the morning. As the time of undocking approached, office workers came out of buildings one after another to witness the event. The liberation of "lofty thing" seemed to have attracted a lot of interest from those who are the most familiar with launching of a ship !
When the time came, the massive body of S485 started to float silently, being intently watched by Kyokuyo president, directors, designers and engineers, workers, subcontractors and office workers - everyone in our company. The vessel then slowly moved and got berthed at outfitting quay No.3 half an hour later. All in attendance applauded heartily and shook hands with each other. The PCTC will be completed by the end of July.
At end of the impressive ceremony, Mr. Ochi, president said in his speech : "First of all, on behalf of everybody in our company, I would like to sincerely thank people at the trading house and the owning company for having chosen us." He emotionally continued, "And then, I thank all our company staffs who are respectably performing the mission. I have never felt more thankful for Kyokuyo's strong technical capability than today. I am proud of all of you ! Let's drink tonight !"
And we cracked additional bottles in the evening, naturally ! [2009/05/16]