Do you know Kyokuyo set up a cooperative in 2004 with several other companies in shipbuilding industry ? In addition to group purchasing, it runs a trainee program, which makes it possible for young Chinese technicians to train in Japan. Every year, the cooperative brings in about 10 people from China, who are scheduled to have 3 years of their apprenticeship here. After their stay, they will return to their previous company in China to take up an appropriate job as qualified technicians.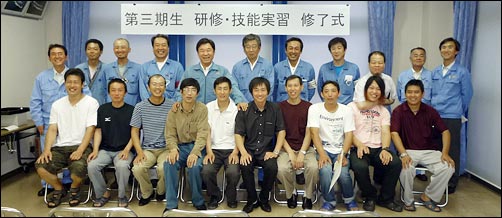 lower : 10 trainees from China ; upper : Kyokuyo staffs
This July, we had a small ceremony as all the program for the 3rd generation trainees was successfully completed. They are 10, with 8 from Qingdao and 2 from Dalian. Having never returned home during the 3-year period, they made an impressive progress in welding skill as well as Japanese language. It is to be remembered that a trainee even posted a "Kaizen" proposal written in Japanese. He received a special award.
The ceremony started with words of encouragement and appreciation from Kyokuyo's president, Mr. Ochi. The certificates were then presented to each of the now qualified members. Finally, 2 trainees, one on behalf of the 3rd generation and the other representing 4th and 5th generations still in the middle of their apprenticeship in Japan, delivered 2 nice and applauded speeches.
The next day was their day of departure. Having exchanged hearty good-bye with staffs of our Construction Division, who took care of them during the trainee years, the Qingdao group headed to Shimonoseki Ferry Terminal to take Orient Ferry for Qingdao, while the Dalian group to International Airport of Fukuoka. I think our Chinese friends all had a happy family reunion in their home town.
We wish them luck and health, and will do our best the 4th, 5th and further generations can safely finish their apprenticeship.

[2009/07/30]

We will be closed on the days marked in red. Sorry for any inconvenience.