After being launched impressively, as reported in News 100

, S-485 was named and delivered on August 31, 2009. She is the eldest of 4-unit series of 16,000m2 pure car carriers ordered by Sumitomo Corporation for Gram Car Carriers AS of Norway.

Mr. Peter D. Gram, Chairman of Gram Car Carriers and his wife Ragbhild, Mr. E. Murakami, Representative Director of "K" Line and his wife Naoko, Mr. Makoto Yamaguchi, General Manager from Sumitomo Corp., and other 30 valuable guests came all the way to Shimonoseki to celebrate the ship's completion and naming. After signing ceremony, all the guests moved to our No.2 berth, where the vessel was anchored alongside. A signal gun was fired when Mr. Murakami named her "Viking Odessa" and Mrs. Murakami elegantly cut the tethering rope.


from left : Mr. Murakami, Mrs. Murakami, Odessa, and Mr. Nakao
But how massive was Viking Odessa, especially if we saw her up close ! It looked just like a tall building. When the scheduled ceremonies were finished, all the guests, including those from Kyokuyo's bankers, were invited to a short tour to explore inside the tower block. They seemed impressed by Odessa's many unique and high-grade features, including (1) propulsion system with 2 engines/1 controllable pitch propeller which assures safe navigation even with failure of an engine, (2) entire car decks free of pillar, (3) world's first fully electric liftable decks and ramp, (4) fin stabilizer for passenger-ship class stability, and (5) ice class construction and equipment allowing her to sail in Baltic Sea in winter. Japanese guests admired also the Scandinavian style accommodation, with all-white walls and plain wood.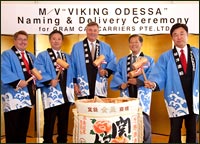 In the speech at the subsequent reception party, Mr. Karl Terjesen, Managing Director of Gram Car Carriers, Mr. Murakami and Mr. Ochi, Kyokuyo's president, expressed in turn their strong passion for the project which had needed more than 1 year to materialize before the contracts were all made. The congratulatory speech of Mr. Tomoaki Nakao, Mayor of Shimonoseki City, who appeared as special guest together with Mr. Shuichi Umeno, Director General of Shimonoseki Port & Harbor Bureau, was witty. He was applauded by demonstrating his thanks to "the world-famous companies from across the sea" for "putting in a lot of money" to "the biggest shipbuilding company that had its headquarter in Shimonoseki." The mayor also asked the guests and attendance to "place more and more newbuilding orders with Kyokuyo Shipyard Corporation", which would be "firmly supported by the city." Thank you, Mr. Mayor!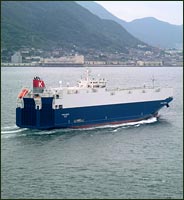 The customary "kagami-biraki" ceremony and a toast proposed by Mr. Yamaguchi followed the speeches. When, as expected, the newly-built car carrier came on the scene, through wide windows of the banquet hall, powerfully propelling herself in her maiden voyage, loud cheers arose from the spectators. Odessa replied, by blowing several whistles. The applause did not end before the ship running at full ahead in adverse current went out of sight.
We all are aware and proud of enormous efforts made by our designing and manufacturing teams to realize such a "high-spec" car carrier after our long absence in the sector. We keep challenging ourselves to implement our "product-mix" strategy.
[2009/09/15]

home > news > 105 : Cerebrated Birth of the New-generation Car Carrier