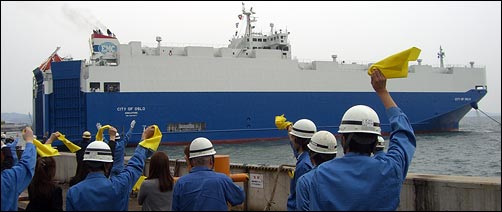 On the last day of the previous fiscal year, March 31, 2010, took place the naming and delivery ceremonies for S487, our 3rd 16,000m2 type Pure Car Carrier ordered by Sumitomo Corporation for Norway's Gram Car Carriers AS.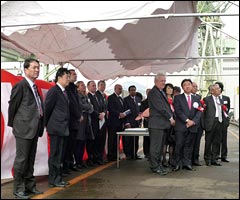 For these ceremonies, we had about 20 guests, including Mr. Karl Terjesen, Managing Director of Gram Car Carriers, Mr. Kochi Yamamoto, President of Nissan Motor Car Carrier Co., Ltd. and his wife Keiko, and Mr. Hiroyoshi Nosu from Sumitomo Corporation.
The leading lady of the day was Mrs. Yamamoto, who elegantly cut the tape and solemnly named the ship "City of Oslo". After the ceremonies, the attendance took an 1 hour tour inside City of Oslo.

And the reception - as usual, we had reserved a banquet room at Shimonoseki Grand hotel so that the guests can give a cheer, through wide windows, for the new ship on her maiden voyage. We wished all the best for City of Oslo !
Time flies fast and we now have only one 16,000m2 PCC to build this time with 3 ships being already delivered. We are working on the last baby, feeling the same excitement that we had for the first ship ! [2010/04/09]