September 11, 2010 is the day when everyone at Kyokuyo delightfully witnessed launching of the most original and sexiest newbuilding ship in its 68 years of history: S-493, "eco-friendly" car carrier with a futuristic "SSS bow", or Semi-Spherical Shaped bow, which we featured in News 112.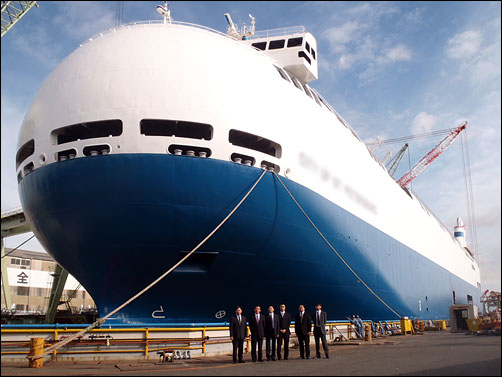 When Mitsui and Co. Ltd. placed its order for S-493 with us, she was expected to be a conventionally-shaped 2,000-unit-PCC. We completed this innovative design later, in effort to answer the growing global concerns about the Greenhouse Effect as well as sharp increase in operational costs triggered by oil price rise.
We would like to respectfully thank the operator Nissan Motor Car Carriers Co., Ltd., Mitsui and Co., Ltd. and the ultimate shipowner for their decision to trust our technical capabilities by considering and accepting our proposal to completely change the outer shell design with keeping cargo space intact. Let us permit to extend our appreciation to our design team, manufacturing team, subcontractors and suppliers, too.

Although it was an ideal day for launching without wind or cloud, we had all got a little nervous when the exceptional S-493 was about to be launched. To be very honnest, I felt everybody breathed a deep sigh of relief when she got afloat and berthed. (Does it sound unprofessional ? Sorry !) "I am very proud on behalf of a shipping company which will operate her. I can't wait to see her run !" What was said by Mr. Naito, the main player in the champagne breaking ceremony, made us even more unprofessionally happy.
We will continue to do our best in outfitting processes to make sure that the ship will be the best at time of delivery ! [2010/09/21]

p.s. A poster to commemorate her launching is available upon request !
home > news > news 122 : "Ecoship" Launched Without Wind Resistance