In every October, we celebrate the employees who reach their 10th, 20th (and so on) anniversary on the job. This year we have 8 eligibles, including our 3 co-workers who have been working for Kyokuyo for 20 years, and 5 for 10 years. All of them belong to Production Department.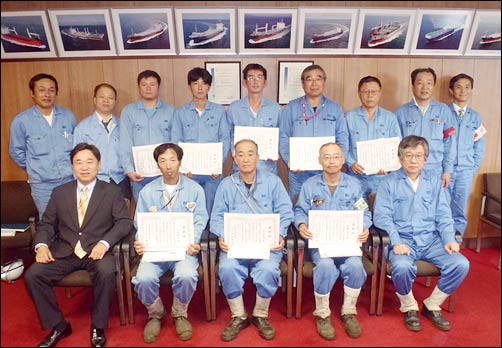 In Japanese there is an expression "Jûnen Hitomukashi" that literarily translates into English as "ten years, a different age", suggesting the pace of change makes ten years back seem like very old history. Imagine that it was only 10 or 20 years ago that they joined Kyokuyo as rookies, and look at them now working hard as company's backbone. Time flies fast, really fast !
At the ceremony, Katsuhiko Ochi, Kyokuyo's president, handed over the award and certificate of appreciation to each of the 8 employees and expressed his thanks on behalf of the entire company.
We are sure that the footsteps they are leaving everyday will continue to become Kyokuyo's valuable assets ! [2010/11/22]

home > news > news 125 : Backbone was not built in a day / Kyokuyo's Milestone Award 2010