Let us introduce Teruki Tanaka, a new face who joined our business department this December. The rookie has just completed 8 months of on-the-job training in the company's every other department after he got onboard m.v. Kyokuyo this April.
The freshman is not a Shimonoseki native. He was born in Kobe, and finished his study at Yokohama, both of which are known as big harbor cities. In fact, his first visit to our home town, Shimonoseki, was only 2 years ago, when his regents professor introduced him to Kyokuyo's 2-week internship program for engineering graduates. Teruki then spent 15 days with us and eventually decided to move away from Yokohama to Shimonoseki, after obtaining Master's degree in Marine Engineering.
Here goes a short interview with Teruki :
(Q) What did make you decide to leave the metropolitan area ?
- I was interested in Kyokuyo's product strategy which I found very challenging. I like the company's atmosphere too, it's lively and open.
(Q) What are your hobbies ?
- I like doing sports, like tennis. My current target is golf, though. I'd like to shoot under 100 next year. Other than that, I like making cocktails and drink them! I worked as part-time bartender when I was student.
(Q) Now that you have landed at your final destination, how do you feel ?
- During 8 months of my trainee period, I saw a lot of passionate people working here. Frankly, I am quite happy to be here, in Kyokuyo, and in the shipbuilding industry.
(Q) What is your aspiration as Kyokuyo staff ?
- The short-term aspiration is to become capable of nicely explaining about my company to others. The long-term one is to be a "super salesman" who knows inside out both commercial and technical aspects of the ship. I'll do my best !

We will be closed from December 30, 2010 to January 3, 2011 for the new year. We wish all of you a happy new year !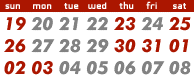 For now, Teruki has started his career path as apprentice salesman in ship repair business group, while attending a one-to-one English training program. Dear customers, if he one day visit your office, please welcome him ! [2010/12/07]

home > news > news 126 : A New Face Joined Kyokuyo's Sales Team