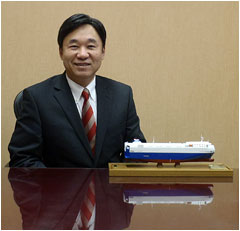 Dear customers and readers, I wish a happy new year to all of you !
In the year 2010, we saw mixed movements. What was heartening was that a bunch of orders from operators for small and middle-sized bulkers started to warm up the shipbuilding market, which had been totally frozen since "Lehman shock" in 2008. On the other hand, abrupt appreciation of the yen - threatening to break past the 80 yen to one dollar in October - reduced Japanese manufacturers' international competitiveness. Just watching many orders going to China or Korea, bypassing Japan, we once again realized how challenging it was to maneuver a shipbuilding company in the international waters.
Taking about Kyokuyo, we had some good news in 2010. First, interests in multi-purpose cargo ships and container carriers have revived since around the middle of last year. Taking the opportunity, we could secure the first order after "Lehman shock", expanding our backlog until February 2013, with 10 vessels on definite order as of end 2010. I would like to heartily thank our customers as well as people at trading houses who worked hard to materialize deals.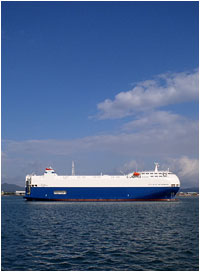 The other good news is, as you guess, the completion of m.v. "City of St. Petersburg", an eco-friendly PCC with Semi-Spherical Shaped bow which we built for Nissan Motor Car Carriers, Co., Ltd. as operator. Although it was not easy to develop, design and manufacture a vessel that no one has seen before, we could manage to launch and deliver her just on time, through company-wide kaizen process including weekly brainstorming meetings which enabled early detection and solution to potential problems. Don't you think that the ship perfectly represents our spirit of challenge ?
In other words, after various events in 2010, we could even increase our confidence in the unchanged strategy to differentiate ourselves by focusing on "technically challenging and high-value added" vessels, and to build and maintain a broad business network in and out of Japan.
So, what will we do this year ?
Firstly, under the same slogan "Don't forget the spirit of challenge!" Kyokuyo will offer advanced ship designs, to be developed with eco-friendliness and carbon dioxide emission reduction in our mind. The company will also continue to strategically seek a better product mix with higher value-added products.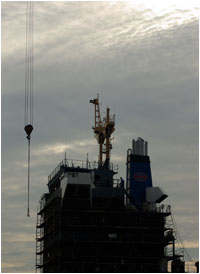 Secondly, we will eliminate more waste. In designing sector, the new next-generation 3D CAD system is expected to save costs and give more accuracy in drawings. As for manufacturing stage, in addition to personnel cut, new production management tool will contribute to streamlining the whole hull construction process by allowing workers to see the detailed images.
Finally, in order to fully utilize the human resources - our most valuable asset - we will try to keep employees' motivation and moral high, through enhancing training programs like English education system. The company supports the development of employees to enable them to tackle challenges courageously, and offer them adequate positions to fully demonstrate their abilities.
Depressed shipping market, exchange rate fluctuations, over supply from foreign countries - negative factors are still looming over the shipbuilding industry. However, we will keep our path of improving ourselves positively and steadily, with a spirit of challenge. And, let me repeat once again, "each of us are committed to do his/her best, in a honest way, with the pride of a ship manufacturer, keeping safety-first in mind, for the sake of himself/herself, company, local community, and our valuable customers and other people involved who have given us opportunities to build our ships in these economical situations."
We would greatly appreciate it if we could have your continued support in the future.

We will be closed from December 30, 2010 to January 3, 2011 for the new year. We wish all of you a happy new year !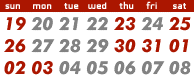 Katsuhiko Ochi
President
Kyokuyo Shipyard Corporation

[2011/01/01]