I would like to express my deepest sympathy for the victims of the devastating earthquake and tsunami that struck North Japan on March 11. I also sincerely wish the affected people a speedy recovery from this disaster.
For your information, located in the westernmost end of Japan's Honshu Island, Kyokuyo Shipyard Corporation has not suffered any damage. We are operating normally.
Katsuhiko Ochi
President, Kyokuyo Shipyard Corporation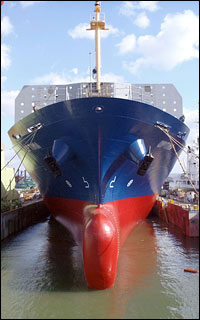 On March 8, 2011, container carrier S-498 was launched as scheduled. S-498 can carry as much as 1,022 units of 20 feet standard containers - the biggest number ever for a ship built by Kyokuyo Shipyard Corporation. She will be delivered in the month of June, after outfitting process.
On the other hand, S-495, the youngest sister of Kyokuyo's "Semi-Spherical Shaped-bow"-ed (SSS-b) pure car carriers passed rampway tests and sailed for sea trials on the next day. The naming and delivery cermonies for this eco-friendly vessel, scheduled at the end of this month, will be our last big event in this fiscal year ending March 31.
As the PCC sisters will be operated solely in Europe, coming weeks are the last chance to see a vessel with a Semi-Spherical Shaped forepart in Japan, at least for now. We are currently doing our best to give her the last touch. Wait for our next news ! [2011/03/23]