I would like to express my deepest sympathy for the victims of the devastating earthquake and tsunami that struck North Japan on March 11. I also sincerely wish the affected people a speedy recovery from this disaster.
For your information, located in the westernmost end of Japan's Honshu Island, Kyokuyo Shipyard Corporation has not suffered any damage. We are operating normally.
Katsuhiko Ochi
President, Kyokuyo Shipyard Corporation

On March 29, 2011, 2,000unit type pure car carrier S495 was named and delivered. She is the second and the last of 2-ship series of Kyokuyo's self-developed eco-friendly ship with a semi-spherically shaped bow that reduces the wind resistance. Featured in TV and newspapers, the sisters are perhaps the most famous of the vessels we have ever built.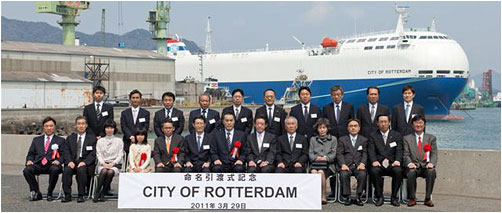 The invited 17 guests include people from the shipowner Biko Kisen Co., Ltd., the charterer Nissan Motor Carrier, Co., Ltd. and the contractor Mitsui and Co.. and from banks. The ceremonies took place very silently, without music, gun salute, or ship whistle, to reflect the owner's intention to make the event simpler and less festive as possible, considering the terrible disaster on March 11 which killed allegedly more than 30,000 in north Japan. The national and company flags were flying half-mast as well.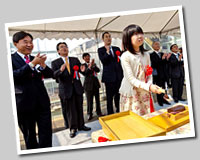 The ceremonies started by a moment of silence for the quake and tsunami victims. Mr. Yosuke Harada, president of Biko Kisen then named the vessel "City of Rotterdam" and his daughter Kyôka axed the rope. When the guests made a short tour inside of the new ship and ceremonial photos were taken, the solemn events were finished. City of Rotterdam quietly left her hometown in the next morning.
We would like once again to express our sincere appreciation and respect to those involved in the project for their decision to adopt the innovative hull design and to offer us a great opportunity for challenge. Thank you very much ! [2011/04/12]