I would like to express my deepest sympathy for the victims of the devastating earthquake and tsunami that struck North Japan on March 11. I also sincerely wish the affected people a speedy recovery from this disaster.
For your information, located in the westernmost end of Japan's Honshu Island, Kyokuyo Shipyard Corporation has not suffered any damage. We are operating normally.
Katsuhiko Ochi
President, Kyokuyo Shipyard Corporation

Kyokuyo Shipyard held its annual company entrance ceremony on April 1, the first day in the fiscal year. For 2011 we have 7 new employees, comprised of 2 college graduates in administration and 5 high school graduates in production.


With all the company directors being present, the ceremony started in the morning by clearing paper formalities and presenting assignment letter. Each of the new comers then made a short speech, and the president delivered a (comparatively) long one in return. That's it. The 7 rookies safely embarked our vessel. After the ceremony, they had a lunch with the directors and received lectures from section leaders.
Real training program for fresh persons started on the next Monday, April 4. The college graduates are actually in the middle of OJT in various sections, which is scheduled to be finished 3 months later. In my impression they look more professional day by day, little by little.

We will be closed as marked in the calendar below for "Golden Week" national holidays starting in the end of April.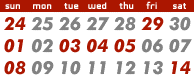 The 5 mechanics went to Oita to attend professional training at Oita Regional Shipbuilding Craftsmanship Center, again for 3 months. We are glad to witness through TV news that at the entrance ceremony (for the center - You know Japanese like ceremonies !) guests were impressed by the speech which Yuhsuke, one of our new boys, made on behalf of whole new trainees.

We are looking forward to see, in the end of June, the new employees come back to their assigned position to start their real career voyage with strong self-confidence. [2011/04/25]