I would like to express my deepest sympathy for the victims of the devastating earthquake and tsunami that struck North Japan on March 11. I also sincerely wish the affected people a speedy recovery from this disaster.
For your information, located in the westernmost end of Japan's Honshu Island, Kyokuyo Shipyard Corporation has not suffered any damage. We are operating normally.
Katsuhiko Ochi
President, Kyokuyo Shipyard Corporation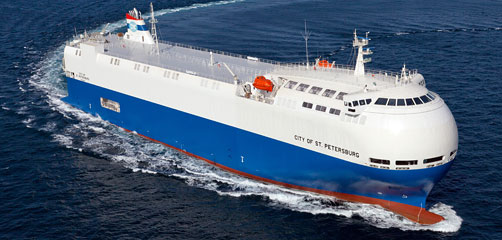 Kyokuyo Shipyard Corporation's "eco-friendly" Roll-on Roll-off car carrier, City of St. Petersburg, has won "The ShipPax Award 2010 for Outstanding RoRo Exterior."
ShipPax Award was launched by Swedish Publisher Shippax Information

in 1999 as a means to "stimulate innovative solutions and promote noteworthy design features on newly-delivered ferries, RoRo and cruise vessels" and may be "considered as the most prestigious trade award in the combined ferry, ro-ro and cruise industry."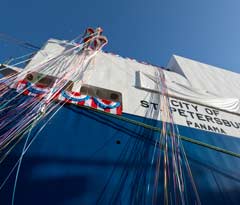 The jury who "knows the ins and outs of all the ships and also the trends in the industry" awarded the prize to our ecoship with Semi-Spherically Shaped Bow, for "her extraordinary, eco-friendly and aerodynamic design."
"Behind her clean shape and lines, there are a lot of unseen efforts, " says Kyokuyo's Corporate Officer and Design Division General Manager Kenzo Kawahara. "Let's take her control room for example - we started with 3DCG simulations to find out the best arrangement of windows, navigation equipment, lights and air conditionner. We even needed to build mock-ups for certain parts."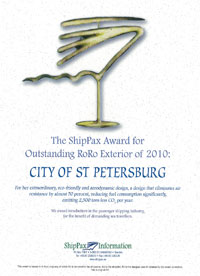 "Talking about hull, to design fairing lines from spherical bow part to flat after part was challenging and exciting. Extra efforts were put to keep every equipment inside the hull as far as possible, to minimize wind resistance." continues Kawahara, "Closer cooperation with Production Division was also required to manufacture such an unprecedented vessel, to determine sizes of steel panels and the arrangement of structural members, for instance."
I and our team feel happy to be awarded the prize for 'outstanding exterior', as we are sure that we produced after all a beautiful ecoship with high precision."
Having come back to RoRo ship sector since only a couple of years, Kyokuyo Shipyard is very excited to see the name of our "City of St. Petersburg" in the award list along with large cruise ship "Disney Dream" or "Stena Hollandica", world's biggest ROPAX. We also feel honoured to receive a significant recognition of our design capabilities from specialists in Europe, big center of RoRo trade.
Kyokuyo will keep its hard work in offering new and innovative solutions. [2011/05/12]

home > news > 135 : City of St. Petersburg Wins ShipPax Award 2011