I would like to express my deepest sympathy for the victims of the devastating earthquake and tsunami that struck North Japan on March 11. I also sincerely wish the affected people a speedy recovery from this disaster.
For your information, located in the westernmost end of Japan's Honshu Island, Kyokuyo Shipyard Corporation has not suffered any damage. We are operating normally.
Katsuhiko Ochi
President, Kyokuyo Shipyard Corporation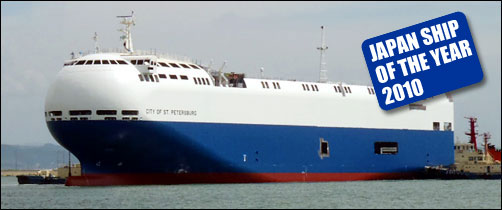 Kyokuyo Shipyard is glad to announce that its "eco-friendly" Roll-on Roll-off car carrier, City of St. Petersburg, has now won Grand Prix Award in Japan's "Ship of the Year 2010."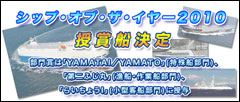 The annual "Ship of the Year" award is one of the most prestigious ship awards in Japan and is sponsored by The Japan Society of Naval Architects and Ocean Engineers (JASNAOE)

. The Grand Prix award represents the JASNAOE's selection of "the most distinguished ship or marine construction proposed in the year" in the award which was launched for the purpose to "promote building of ships and marine constructions of technical and artistic excellence."
In the committee held on May 31, our ecoship won 9 votes out of 12. The car carrier was selected because of its innovative design that results in better fuel efficiency and lower CO2 emission, and the manufacturing technology used in her to beautifully materialize the original concept of a ship with a semi-spherically shaped bow.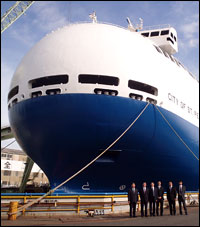 Daily Kaiji Press

, Japan's leading maritime newspaper, further reported on June 8 that JASNAOE also commented that the society had given a high praise to our efforts because they had rarely seen a vessel with a streamlined hull in reality, while seen more often in concept sketch.
"I have never imagined that Kyokuyo would win the Ship of the Year Grand Prix." said Katsuhiko Ochi, President of the company. "I'd like to firstly thank people at Class BV and JFE Steel, who recommended our "City of St. Petersburg" to JASNAOE on our behalf."
He further added : "The idea of semi-spherically shaped bow was conceived at the beginning of 2007. I would like to respectfully thank the operator Nissan Motor Car Carriers Co., Ltd., for its decision to trust our technical capabilities by accepting our proposal to completely change the outer shell design. My thanks also go to people at Mitsui and Co., the contractor, and ship owners who supported us."
"I'm delighted that the coveted award was given to a ship which a small shipbuilder like our company had developed and designed on its own. I am proud of our design team and manufacturing team."
In fact, everybody at Kyokuyo Shipyard is excited and proud that City of St. Petersburg has won the big prize after winning ShipPax Award (in exterior category) last month. We will continue our efforts in offering advanced products, under the slogan "Don't forget the spirit of challenge!" [2011/06/14]

home > news > 137 : City of St. Petersburg Wins Japan Ship of the Year