I would like to express my deepest sympathy for the victims of the devastating earthquake and tsunami that struck North Japan on March 11. I also sincerely wish the affected people a speedy recovery from this disaster.
For your information, located in the westernmost end of Japan's Honshu Island, Kyokuyo Shipyard Corporation has not suffered any damage. We are operating normally.
Katsuhiko Ochi
President, Kyokuyo Shipyard Corporation


On July 6 2011 was launched S500, the first vessel in 4 sisters of 6,600tdw RORO carrier ordered by a European owner. The ship marks Kyokuyo's return to the sector after its m.v. Yuzui Maru left the dock in 1995.

S500, expected to be delivered in October, is a "three decker" having 3 decks, namely "tank top", "main deck" and "upper deck". Many ideas to meet today's and tomorrow's requirements were being integrated into the new generation product designed with clean lines. Let us explain some :
The clear height of the main deck is as high as 7.0m and 2-tier of containers are storable on both of the main and upper decks.
Very large heavy cargoes (with width close to the vessel's beam) can be loaded via her stern ramp.
Bow and stern thrusters are equipped to enhance her maneuverability.
This RORO is Kyokuyo's first ship to have a ballast water processing system onboard.
and lots more !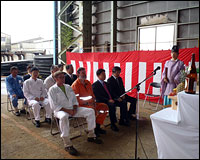 The next day, keel laying took place for her sister S501. As the ceremony was carried out in Japan's "shintô" style, owner's superintendents looked somewhat puzzled, but amused to take part in events like "tamagushi hôten" where attendees offered a tree branch in front of a kind of altar set by shintô priest.
During hot summer days, we are concentrating on building brand new RORO carriers.
[2011/07/24]

| | |
| --- | --- |
| | In August, we will be closed on the days marked in red. Sorry for any inconvenience. |