I would like to express my deepest sympathy for the victims of the devastating earthquake and tsunami that struck North Japan on March 11. I also sincerely wish the affected people a speedy recovery from this disaster.
For your information, located in the westernmost end of Japan's Honshu Island, Kyokuyo Shipyard Corporation has not suffered any damage. We are operating normally.
Katsuhiko Ochi
President, Kyokuyo Shipyard Corporation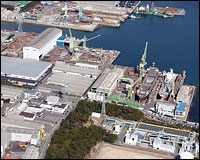 Now that more than 40 years have passed since Kyokuyo Shipyard Corporation moved from Shimonoseki's Hikoshima island to Chofu area - its current place, we have decided to demolish and rebuild our main office building.
You may not think that it is the best timing for this kind of project, with the world economy being depressed and yen being endlessly appreciated. The management however didn't want to waste any time in replacing the old building with a solid one built to the newest standards. We believe you agree with our management, if you saw what happened in the Japan's north-eastern region after the earthquake 3.11. Although the big earthquake and tsunami are known to be rare in our region, it's always better to be prepared because it is a matter of safety.
Construction works have just started and all the offices previously located in the company's main building were temporarily relocated on November 19 and 20. The first group, i.e. Corporate Strategy Office, Business Division, Material Purchasing Division and General Affairs Division, was moved to a building we rented from our neighbor - Chofu Kiko K.K.. All the rest went to Superintendent's Office Building. The second group includes Production Division, Quality Assurance Division and NC department of Design Division.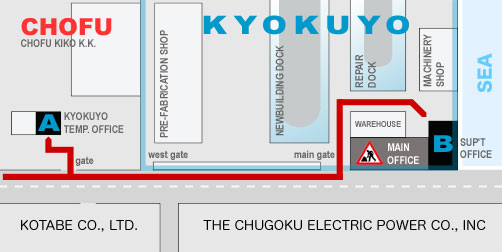 Relocated to A [Group 1]

Corporate Strategy Office
Business Division
Material Purchasing Division

Relocated to B [Group 2]

Production Division
Quality Assurance Division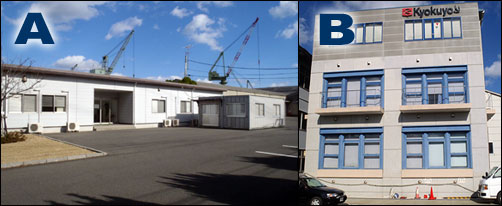 The postal address, telephone numbers and fax numbers are intact with only one exception : the fax number for Business and Material Purchasing Divisions changed to +81(83)246-1292. The works are expected to be completed in July, 2012. [2011/11/28]

home > news > News 142 : Building a Solid Base for Activities