I would like to express my deepest sympathy for the victims of the devastating earthquake and tsunami that struck North Japan on March 11. I also sincerely wish the affected people a speedy recovery from this disaster.
For your information, located in the westernmost end of Japan's Honshu Island, Kyokuyo Shipyard Corporation has not suffered any damage. We are operating normally.
Katsuhiko Ochi
President, Kyokuyo Shipyard Corporation

On November 17 took place our last big event for 2011. It was the delivery of S-500, a 6,600tdw type RORO cargo ship ordered by Europe-based Shiplux VII S.A..

Our first RORO cargo boat since 1995 (PCC or PCTC excepted) is a modern transporter optimized for the today's logistics services in Europe. Underneath her exterior's clean lines she has so many features - please refer to the summary below!
On the delivery day, we had as signers Mr. Mr. Stephen Knapp, Director of Euroship Service Ltd., on behalf of the owners, and Mr. Sho Murakami, representing Sojitz Marine Co., Ltd., the prime contractor for the transactions.
She is the first of 4-ship series i.e. the remaining 3 sisters are under construction. While we are now concentrating on her sisters, we wish her fair winds and following seas !
KEY FEATURES OF KYOKUYO'S NEW GENERATION RORO S-500
HULL & CARGO HANDLING

Very shallow draft ship with design full-load draft of 5.4m - ideal for river navigation
3 car decks, 2 of which have clear height of 7m - accepting trailers loaded with 2-tier containers
1760 lane meters
Smart arrangement of 6-degree inner slopes ensures quicker and smoother cargo loading / discharging

Equipped with a hydraulic-driven 150t SWL stern cargo ramp and an inner slope cover
Generator room is wisely located on main deck, under an inner slope to optimize the space efficiency

MACHINERY

The line shaft transmits the power from a mid-speed diesel engine to a propeller, via reduction gears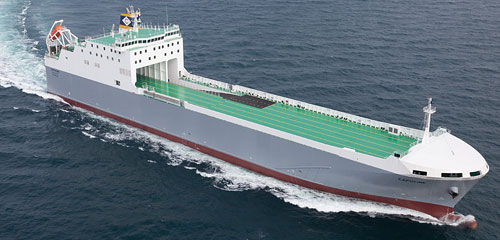 ENVIRONMENT

Ballast water treatment system to prevent marine organisms from displacement
Newest main and auxiliary diesel engines satisfying the NOx regulations Tier II
Fuel service system including main/aux engines and boilers complies with EU's low sulphur regulations
Reduction gears with step-up function help save energy by appropriately controlling shaft generators

SAFETY

Emergency propulsion system using the shaft generator permits slow self-navigation even if the main engine fails
Totally enclosed type bridge with 3 'SYS-IBS' units, allowing the navigation with one man at bridge
Data logger system with a integrated monitoring device with power management & remote controller functionalities
[2011/12/14]

home > news > News 143 : Kyokuyo Rolled Out A New Roll-On Roll-Off