Since April is the first month of a fiscal year, there were some changes in Kyokuyo, too.
First, reorganizations. The company has split its Business Division into 2, namely Newbuilding Business Division and Repair Business Division. In Design Division, Machinery Design Dept. and Electricity Design Dept. were merged under a new name Machinery / Electric Design Dept.. Likewise, Hull Construction Design Dept. and Hull Outfitting Design Dept. were merged into a new Hull Design Dept.. Finally, NC Dept. was renamed to Hull Production Design Dept..

Second, personnel revisions. In line with the company's policy, Kyokuyo is routinely promoting young employees to higher positions in order to motivate them and to make organizations more active. As a result of regular personnel change in this April, as many as 7 employees were given a manager-level position before the age of 40. We expect young managers dynamically lead his/her team with fresh ideas.
Third, we rolled out a new program to improve the morals of the employees and subcontractors. The program is meant to encourage them to keep the concentration until the last minute of working hours. The management hopes this will contribute to the successful implementation of the new 'Survival Plan' and also to strengthening of the sense of unity within the company.

We will be closed as marked in the calendar below for "Golden Week" national holidays starting in the end of April.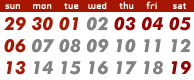 Finally, fresh-persons. This year, we received 5 new employees, 2 of whom are college graduates. A little fewer than past several years, the newcomers of 2012 aren't less talented, and are very good at communication skills. The editor was impressed by their earnest eyes at the welcome ceremony. As usual, 2 college grads have started their OJT in the headquarter while 3 high school grads were sent to Oita Regional Shipbuilding Craftsmanship Center for 3 month professional training.

With a lot of changes, and our new office building expected to be completed in 3 months, we feel much that we are making a big change. We are advancing steadily ![2012/04/11]

home > news > News 149 : Start of Fiscal Year 2012 - Shift to New Era