At Kyokuyo, the fiscal year 2012 has started with the naming ceremony for S-502, a 6,600tdw RORO cargo carrier ordered by SHIPLUX IX S.A.. She is the 3rd of 4 sisters.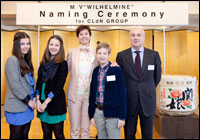 The guests include Mr. Jean Cigrang and his wife Barbara, with three children, and Mr. August Verdonck and his wife Christine, all from the shipowning group, and Mr. Katsujiro Arai, president of the main contractor Sojitz Marine & Engineering. Also invited are 3 Japanese shipowners, who have close business relationship with the group.
The sponsor for the ceremony was Mrs. Barbara Cigrang who solemnly named the vessel "WILHELMINE" and elegantly cut the rope which had been tethering the ship to Kyokuyo Shipyard. The RORO carrier was the first in the series that was given name in Japan, as her elder sisters left our place without being named.
Following the formal part of the ceremony, the guests were invited onboard newly-built vessel. The children excitedly tried the captain's seat in turn, to taste the feeling of being the commander of a big ship.
A buffet lunch was held then at a nearby hotel, where we offered some Japanese specialties like sushi and soba (buckwheat noodle). And of course, 'Kagami-biraki' (breaking open of a barrel of sake) took place in compliance with our tradition. As you see in the photos (click thumbnails to view a larger version), it was a nice day, filled with smiles.
The vessel sailed out of our shipyard in the end of April, leaving our staffs on the quay who had gathered for a send-off. We all wish WILHELMINE and her crew safe and successful journeys !
[2012/05/16]