On June 20, a 6,600tdw RORO vessel, code-named S503, was delivered to the owner, SHIPLUX X S.A.. She is the youngest and the last of 4 sister ships, ordered by CLdN.

Our engineering and design staffs feel the series, started with S500, very special, as they are our first pure RORO carriers since 16 years. We will probably miss their shape with typically European lines.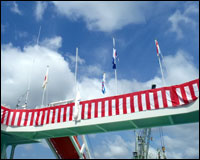 The delivery ceremony, which took place onboard after paper signing, was attended by Mr. Frank Davis, Managing Director of the ship manager EuroShip Service Ltd., and his colleague Chief Supervisor Mr. Chris King, Mr. Katsujiro Arai, President of the main contractor Sojitz Marine & Engineering Co., Ltd. (SOMEC) and Mr. Sho Murakami, the company's person in charge, among others. We were impressed by beaming happy smiles of the Captain and his crew.
The next morning, S503 sailed out to sea, leaving our staffs at quay who gathered together to see her off. We thank CLdN and SOMEC for giving us an opportunity to challenge the development and production of the modern RORO ships. We wish the 4 little women safe and successful journeys.
[2012/07/02]

home > news > News 153 : Last but Not Least - S503 Started Her Journey