On July 1, 2012, we welcomed Matthew Sizemore to fill the role of English teacher at Kyokuyo. Matt, 27, a California-native, will also take care of other English-related services like translation, interpretation and proofreading.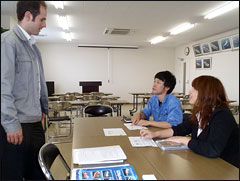 As internationally-minded company, Kyokuyo has tried various measures to improve employees' English language skills : making a contract with a language education company (news023

), introducing distance education equipments (news035

), or implementing special education programs (news107

and 114

), to name a few.
It was difficult, however, to minimize absence rate, as busy schedules and sudden business trip always interfere with English lessons. So why not to employ a native speaker to be here all along to say 'hello' (with native accent) to every staff ? Isn't it better and more cost-effective to have a full-time teacher ? And voilà, here comes Matt !
For time being, 30 staffs, whose position very much requires the use of English language skills, are taking lessons from Matt mostly on 'one-to-one' basis. It seems going well and promising. In the future, the company is planning to open the door to a wider range of employees, too.
A quick self-introduction from Matt :
When you see me please say hello!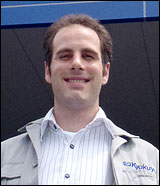 Greetings everyone! My name is Matthew Sizemore but please call me Matt. I am from a smaller city called Redding which is located in northern California. Redding is surrounded by mountains and has many lakes and rivers so fishing and water sports are popular in the summer. In the winter, many people enjoy skiing and snowboarding on the slopes of Mt. Shasta which is one of the tallest peaks in California. I enjoy watching almost every sport and I really love playing basketball.
I have been teaching English at Kyokuyo for a little more than a month now. I have had the wonderful opportunity to meet many of Kyokuyo's talented staff. I look forward to meeting and developing a rapport with everyone.
I have been living in Shimonoseki for three years. Shimonoseki is the first and only Japanese city I have lived in. During my time in Japan, I have traveled to a few places including: Tokyo, Nikko and Hiroshima. I enjoy larger cities like Fukuoka and Kitakyushu but my heart is in the country so if you know of any hidden treasures in Japan please let me know!
As I understand, Kyokuyo has a reputation as an innovative and reliable shipbuilder. I am extremely honored to be a part of the staff and will strive to help everyone create an even more outstanding company. When you see me please say hello!
[2012/08/21]

home > news > News 155 : A Native English Speaker Joined Kyokuyo