On November 8, 2012, Kyokuyo Shipyard conducted a bi-annual fire drill in coorperation with Shimonoseki-East fire station.

The special scenario prepared for the drill 2012 is like this :
A fire occurred in No.4 hold of the newbuilding ship currently berthing at our No.3 quay ;
3 workers have been injured ; and
another worker remains unescaped on boat deck with his right lower leg broken.
In addition to 80 staffs from the shipyard, about 20 firefighters participated in this training program which also involved 4 vehicles including 3 fire trucks.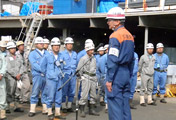 The precautionary drill was finished in 30 minutes under the direction of the fire station team. Somewhat tensed, we felt the time went much faster than we anticipated.
In the ending speech, the fire chief, after giving us a good score for our general performance, reminded us never to neglect basics, as the actual fire, once occurred, is simply unpredictable in every way.
Kyokuyo does and will do our best to prevent fire and other accidents and keep people, ship and factory safe. [2012/11/13]

home > news > News 158 : 4 Injured by Fire (according to the Scenario) !?