In April 2013, Kyokuyo Shipyard Corporation welcomed 6 new employees.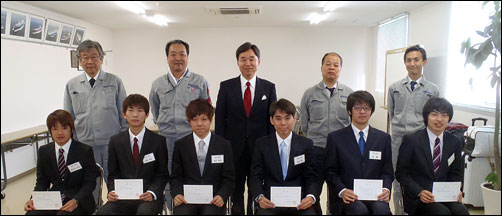 Kyokuyo's 2013 rookies include 2 MEng holders who have studied ocean engineering. We hope they will become leading players in our engineering teams and propel our technical abilities further.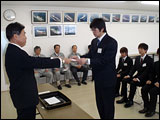 Eita studied at the same grad school at Yokohama as Teruki

. He has been working part-time for one of large electronic store chains and sold a lot of articles as sales person. At time of job interview, he was asked to try to sell tablets to interviewers (= company's BOD members) and the result was excellent, as the president Katsuhiko Ochi, persuaded, said eventually "Okay, I'll take one" after his sales talk !
Besides MEng from Kyushu University, Lipeng, a China native, holds also a top level Japanese-Language Proficiency Test Certificate. He is without doubt the best calligrapher in the company - his hand-written CV was so beautiful !
--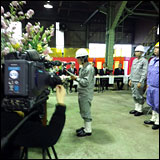 Makoto, Akihiro, Reira and Masaya are all high-school graduates and expected to play important roles in Kyokuyo's manufacturing side as technicians. Like the case of their predecessors, we have sent them to Oita Regional Shipbuilding Craftsmanship Center for 3-months professional training program. Masaya made a speech at time of the Center's entrance ceremony, and looked embarrassed by media interviews.
At the end of June, each of future-technicians is scheduled to return to Shimonoseki with professional skills, 7 qualifications (if everything goes well), and rock-solid self-confidence. We are all looking forward to seeing how they will look then ! [2013/05/15]

home > news > News 166 : Team Kyokuyo Recruited 6 New Players