On August 23, 2013, the latest model of our famous ultra-low-temperature-refrigerated-cargo-carrier (ULTR) was named and delivered to the owner.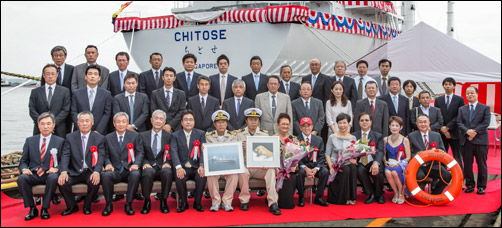 The vessel, S-509, is the youngest of 3 ship series and shares the basic specifications, like speed or capacity, with her elder sisters IBUKI and CHIKUMA. She is thus one of the world's biggest ULTR with her cargo capacity of 280,000cft and the audacious 'ballast water-free' design made her greener without relying on pricey water-treatment equipment or heavily coated tanks.
The newly-born reefer boat has a hidden secret, though : she has been given a special heat insulating material to further improve the cold storage performance of cargo holds. What does it mean ? It means more efficiency and less fuel for refrigerating and electric generating units ! With strongly positive freezing test results, we expect S-509 will be another very good example of Kyokuyo's energy-saving ship.
For the ceremonies were invited approximately 40 guests, including Mr. Edward Yeo, managing director of the owning company Wang Tat Corporation Pte. Ltd. and his wife Mrs. Dora Teo Bee Ling. S-509 was named "CHITOSE" (= millennium or very long period, in English) by Mr. Yasuhiro Kawakami from Mitsubishi Corporation and tethering rope was cut by Mr. Masamichi Itoh from Toyo Reizo Co., Ltd.. Applause, confetti and gun salute then celebrated the birth of CHITOSE and her delivery to the owner.
The main event of the luncheon reception was rare and costly "giant tuna cutting show" sponsored by Toyo Reizo Co., Ltd.. Many guests watched and photographed 'sushi chefs' carving a giant fish in a traditional way. Freshly-sliced sashimi were given to each of the attendees as gift. And, like other delivery events of Kyokuyo, the guests could witness the new ship's departure through wide banquet hall windows. The reception ended after we gave loud cheers to CHITOSE steaming toward the ocean.
We all wish the ship, her crew, owners and cargo owners safe journeys and many successful years ahead as her name implies !
[2013/09/18]